BY HANNAH BLYTH
As the tense countdown continues to the Nigerian elections – scheduled to take place this Saturday, March 28 – gender based violence is on the rise. This is not just endemic to Nigeria, but can be linked to wider issues of negative gender attitudes and wider violence in the region.

Recent data complied as part of the Violence Affecting Women and Girls (VAWG) program, a collaboration between FFP and local partner NSRP, suggests that gender-based violence has been steadily rising in the pre-2015 Nigerian election period. This is consistent with the rise in general violence and insecurity in the lead up to the Nigerian elections, as detailed a recent FFP Election Violence Update.
The VAWG program's monitoring activities, which focus on specific instances of violence affecting women and girls in eight Nigerian states, have shown that reported incidents were higher in 2014 than in any year since 2009. Demonstrated in the Graphic 1 below, the top three incident types related to insecurity, human rights, and group grievance.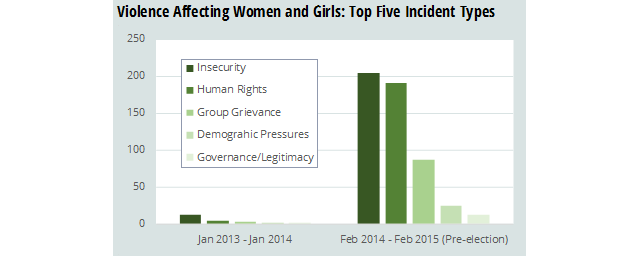 Graphic 1: VAWG incidents reported by indicator, in eight Nigerian States (Kano, Kaduna, Yobe, Borno, Baylesa, Delta, Plateau, Rivers) using all data sources from peace map http://p4p-nigerdelta.org/peace-building-map
Gender-based violence in Nigeria has been exacerbated by the overall insecurity which has characterized the pre-election period. In particular, while women and girls continue to experience domestic and sexual violence at alarming rates, they are also either being targeted or experiencing the collateral effects of the wider insecurity in political clashes, intercommunal disputes and crime. Female politicians and the wives and family members of male political candidates have not only experienced heightened levels of gender-based hate speech, but have, in some cases, been directly targeted by thugs and criminals for physical violence, including sexual abuse. The concentration of incidents in gender-based violence in the past twelve months is highlighted in Graphic 2 below.
Graphic 2: Heat map of VAWG incidents reported in February 2014 – February 2015 (Kano, Kaduna, Yobe, Borno, Baylesa, Delta, Plateau, Rivers) using all data sources from peace map http://p4p-nigerdelta.org/peace-building-map
This trend in gender-based violence during election periods is consistent with wider regional issues in West Africa. During a conference held in 2009 by the Electoral Institute for Sustainable Democracy in Africa (EISA), one of the key issues raised was how conflict in electoral periods intensified patterns of discrimination and violence against women. As discussed by Professor Sheila Bunwaree in the EISA conference papers, "in situations of conflict, habitual abuses (such as domestic violence) take on new dimensions and distinctive patterns, as all forms of violence increase."
The topic of gender violence in democratic elections was also raised in the UN Praia Declaration on Elections and Stability in West Africa in the aftermath of 2011 regional legislative and presidential elections. The roundtable held in Praia in May 2011, highlighted the impact of gender violence on women's participation in the democratic process, both voters and as candidates.
The lack of political inclusion of women in the electoral process in West Africa is discussed in a 2010 study examining Liberia and Sierra Leone by International Alert. One of the conclusions identified in the report is the need to overcome the psychological barriers with the countries to enable greater political participation of women.
Currently in Nigeria, this psychological barrier remains a key problem for enabling female inclusion and equality in the electoral context. Women are limited from participation in the Nigerian election process, not only as voters being threatened in gender-specific attacks, but also limited in democratic representation. In a Nigerian opinion poll conducted by the International Foundation for Electoral Systems in March 2015, it found that "51 percent majority of men would not vote for a woman as President even if she was as qualified as male candidates."
The poll does not bode well for the first female presidential candidate Remi Sonaiya, who is due to face her highly publicised male opponents Incumbent President Jonathan and General Buhari. These attitudes towards gender in Nigeria are manifested in the current makeup of the federal legislature, with just 6.67% of women elected to the House of Representatives in 2011.
In the current climate of the 2015 elections, characterized by growing violence, tensions between APC and PDP supporters, and the wider insecurity driven by the Boko Haram insurgency in the north of the country, discussions of gender have gone largely ignored. Nigeria, along with many of its regional counterparts, still have a long road ahead to tackle gender violence and the psychological barriers to equality.